Vintage decor
More and more, creating sustainable solutions and protecting the environment are becoming design priorities. Incorporating vintage decor into your Washington, D.C. home rescues treasures from the landfill and avoids using resources and machinery to produce new furniture.
Aside from its reduced environmental impact, the vintage decor also adds personality and uniqueness to your home. You can pick out items that truly speak to your sense of style and make rooms pop. As they're nearly one-of-a-kind, you won't need to worry about your Capitol Hill neighbors having the same pieces as your neighbor.
Whether you're scouring
D.C. antique shops
, looking for pieces, or showcasing long-held family heirlooms, this is a trend you won't want to pass up!
Glass
Glass is an easy material to bring into your home, and it will enhance the sophistication of your Washington, D.C. space. It can be incorporated into objects like candle holders, lighting fixtures, decor, cabinetry, railings, and even furniture.
A versatile material, glass can brighten a space and add some much-needed pops of color. Put some beach glass into your candle holders to bring your room together, or use it as a way to reflect light throughout your space. Consider some furniture with glass accents to add a unique and
fun talking piece
to your Capitol Hill townhome.
Whether plain or elegant, you likely already have many glass items in your home — so put them on display this year!
Natural materials
Natural materials have been making a comeback, and the trend will hold strong in this year. Another way to bring green and sustainable items into your D.C. home is to use natural materials that allow your space to reflect the world surrounding it and bring a sense of timelessness to your design scheme.

Designers of beautiful natural decor know how to highlight their materials, so you can incorporate these timeless pieces into your Capitol Hill home without worrying about them going out of style. Incorporating natural materials will bring a calming and peaceful ambiance to your home as well.

Make sure to research which materials suit your home and environment best before you incorporate them into your decor.
Warm neutral tones

While cool tones used to be the peak of contemporary, the pandemic's effect of more time indoors means designers prefer warm and cozy elements. One of the ways you can achieve this in your D.C. space is by adding warm-toned decor. For example, consider pieces with alabaster, cream, white, beige, and taupe hues.

You can add warm tones via furniture, blankets, pillows, or even furniture. Find colors that suit your existing decor and consider making your new pieces functional. Warm colors work exceptionally well to bring coziness to your Capitol Hill home. Your space will feel comfortable and make you want to be there.

There's no better time than winter to hop onto this trend and make your rooms a warm escape from the temperatures outside.
Black accents
Black pairs well with most other colors can be found in multiple materials, and always looks chic! White has been trendy for a long time, and adding black accents will contrast with your existing white elements to add elegance and style to your home.

Consider painting rails, trim, and baseboards — or you can add in physical items like lamps, bowls, vases, and artwork. Add these elements in a way that doesn't overpower your existing decor and elevate your design to 2022!
Natural lighting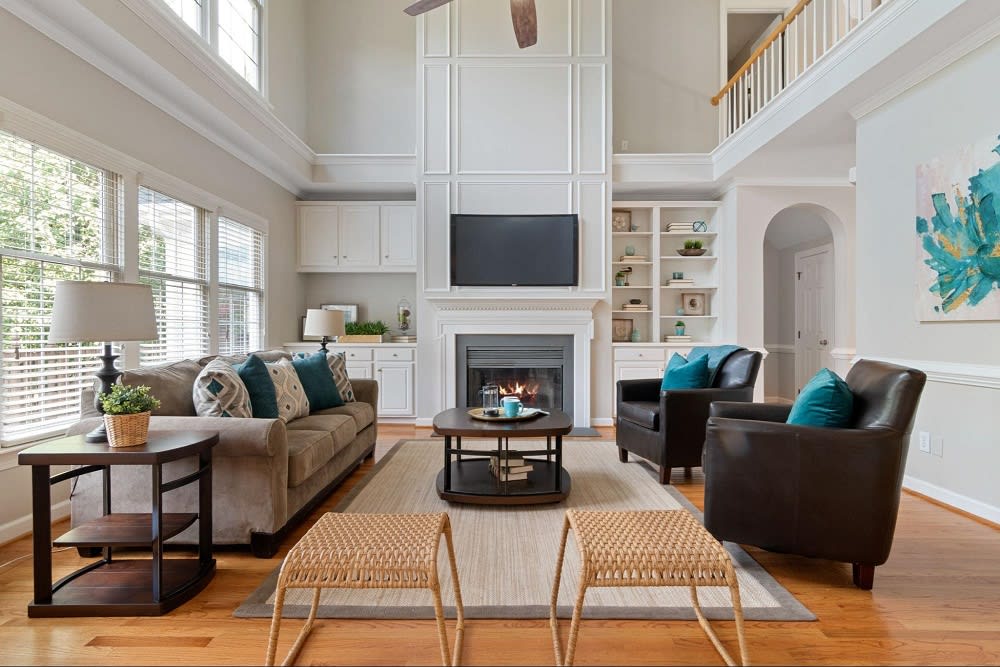 Bringing light and brightness into your home isn't a new concept, but consider really committing to creating natural light in your Capitol Hill property this year. Not only will your home be more appealing, but natural light has been proven to increase productivity and decrease stress.

Large windows, light wall colors, and high ceilings can all bring light into your home. Depending on the structure and layout of your home, you may be limited in what you can do. However, consider this an invitation to take on that project you've been pondering. With more people working from home now, a big change will bring big rewards.
Textured fabric
Sleek surfaces are out, and
hygge is in
— what better way to achieve that sense of coziness than with your fabric? These fabrics will add a sense of handcrafted luxury to your home, as well as enhance your space with comfortable pieces.
Some specific fabrics you'll want to source are velvets, slub-knits, and fringe, although your personal preference will, of course, suit your Capitol Hill home best. Incorporate these textures into accent pillows, blankets, or even your furniture upholstery.
In addition to being stylish, textured fabric accents are highly functional and a must-have for the coming year.
Versatile spaces
The COVID-19 pandemic has revolutionized remote work, and many employees' spaces have become part home, part workspace. Two years on, most Washingtonians know that taking calls from bed isn't ideal — so if you haven't already, it's time to create a separate workspace without losing your home atmosphere.

There are a few ways you can achieve this within your home. The most important is ensuring that the space is free from distractions while being aesthetically pleasing. In addition to creating a suitable space to focus, your video calls will have a clutter-free, pleasant backdrop. Consider moving light fixtures to ensure that your space is well-lit for work and calls.

As more jobs move to remote work, a versatile workspace should be at the top of every remote employee's list.
Living room bars
If you've watched shows like
Mad Men
,
Succession
, or
Gossip Girl
and envied the fantastic drink carts on-screen, then you're in luck — bars and bar carts are all the rage to have in your District of Columbia home come 2022!
Living room bars, trolleys, and drink carts are stylish and luxurious features that add flair and functionality. As a bonus, stocking up on bar equipment and specialty liquors may open you up to a new
mixology hobby
. Make sure you also get some nice glassware to showcase as well.
Trust us — you won't want to skip this trend!
Get some houseplants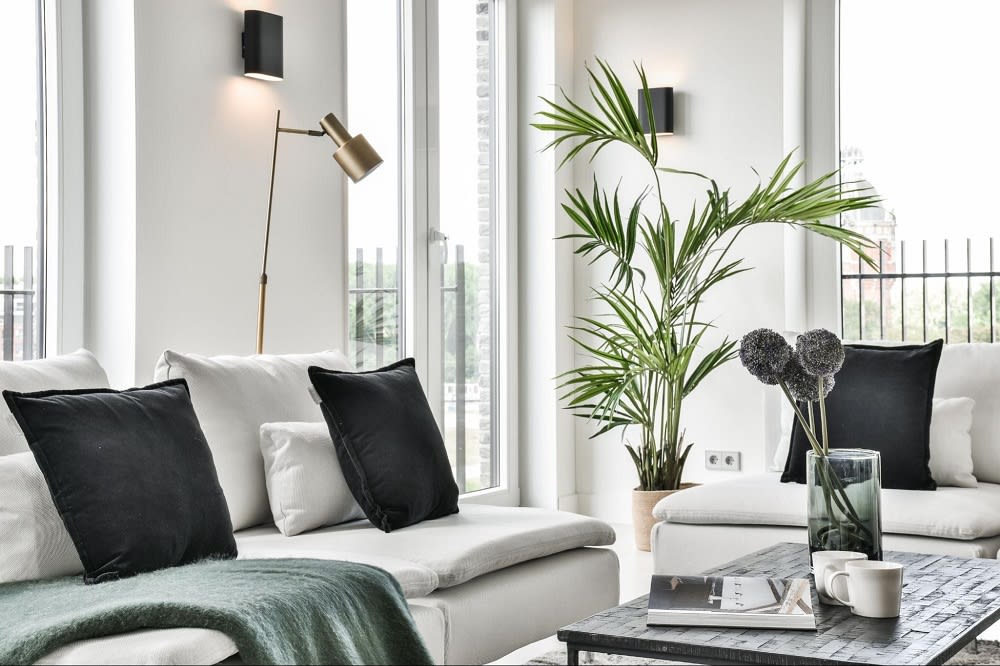 Plants have so many benefits that if you don't already have some decorating your home, you're doing yourself a design disservice! Plants add oxygenated air, loads of ambiance, and a sense of positive energy. As a starter, consider kitchen herbs — they make for excellent decorations, can enhance your recipes, and spare you the time and money of a supermarket run.
If you're worried about taking care of plants because you've got a black thumb, opt for some
faux plants
for your Capitol Hill rowhouse. Well-designed ones can look like the real thing, and you'll get the aesthetic while avoiding the possibility of accidentally killing them.
Adding plants
is an easy, practical, and cost-effective way to update your home's design
Marble
Marble has been moving from the kitchen into the rest of the home, and this trend will continue in 2022! Marble tops and accents add a sleek and elegant look to your Washington, D.C. home and can come in a variety of colors.
Although kitchen and bathroom counters are common use cases for marble, you can also incorporate this material into other areas. For example, consider a marble lamp, vase, or artwork to accent your living room, office, or study. Marble pairs well with natural materials and black accents, so it'll enhance your other trendy decor.
If you're looking for homes in Capitol Hill or the Washington, D.C. area, make sure to contact
Kyra Erika Agarwal
to set up an appointment today!