In DC, every neighborhood boasts a unique and compelling personality. So let's take a closer look to see which one is the best fit for you.
Adams Morgan

If you're looking for a place to live that's very vibrant with lots of nightlife but is also a charming residential place to live, Adams Morgan just might be the place for you in DC. Living here means there are endless opportunities for things to do every day of the week. There are plenty of local restaurants, bars, shops, all within walking distance of one another.

Some favorite shops and places to go in Adams Morgan are:

◾ Madam's Organ: A blues bar
◾ Songbyrd Music House & Record Cafe: Coffee shop and music store
◾ Muzette's: Korean karaoke bar
◾ Urban Dwell: Shop for home items and clothes
◾ Jack Rose Dining Saloon: A place for drinks, cocktails, and good food
◾ Donburi: A Japanese restaurant
◾ So much more to discover

As you can see just from this short glimpse of what Adams Morgan has to offer, there is really something for everyone to love, whether you're into the arts, shopping, or a music lover. You can also find nature and greenspace at Meridian Hill Park. This park has been around and loved for decades, with a gorgeous landscape and carefully built statues throughout. It's a great place to go for a walk, do some yoga, have a picnic, or just to take in some nature with friends and family. Adams Morgan's diverse entertainment opportunities and exciting environment make it a wonderful DC neighborhood to live in.
Logan Circle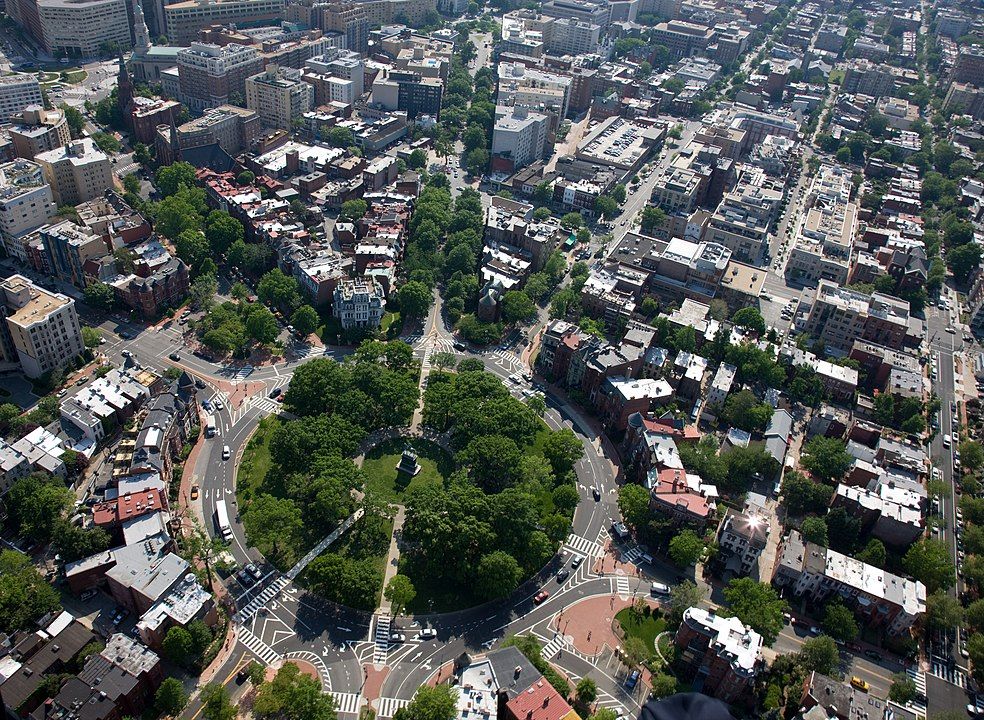 Known for being a luxurious, fast-paced neighborhood with lots to do, Logan Circle is another desirable DC community you should consider. This community has so much to explore around every block, especially in terms of entertainment. There's a reason this neighborhood attracts so many young professionals!

The restaurants here are known for serving cuisines from around the world, and fine dining is available in everything from Italian restaurants to French flavors to Latin cuisine and so much more. If you're looking for a place to go for shopping and dining, you can do lots of it on 14th Street NW. This is where you'll find its well-known restaurants and luxury shops, and boutiques.

Logan Circle is also home to lots of theatre opportunities for you to enjoy. You can catch plays at the Studio Theatre or attend a concert at Black Cat. Even with the area's fast-paced lifestyle, there's space to just relax and take in the outdoors. One of the best places to do this is at the Logan Circle Memorial Park, which makes for the perfect place to picnic or read a book. Logan Circle is the place to be if you're looking for a neighborhood that is both luxurious and exciting at all times.
Dupont Circle
A mix of both the old and the new, Dupont Circle makes for a wonderful neighborhood to live and spend your time in. It's well-known for its gorgeous and historical architecture, which makes for beautiful residential areas.

This neighborhood has lots of opportunities for entertainment but also has a more laid-back and relaxed feel to it. In terms of shopping and restaurants, you can find everything you could dream of on Connecticut Avenue.

Dupont Circle is an amazing place for any art lover, being home to the Phillips Collection and other art facilities. The Phillips Museum was the first modern art museum in the United States. You'll also find green space here for enjoying some time outdoors at Dupont Circle's traffic circle, as well as by taking in some history at the Spanish Steps.

Adding to the relaxed, community-oriented feel of the neighborhood, there is a farmers' market known as the Freshfarm Dupont Market. It has been around since the late 1990s, and it's a place where you can browse and purchase fresh local produce and other goods created by the people living in this area.
NoMa

This neighborhood, NoMa, is growing quickly and has a different feel from the classic city environment. If you're looking to move to an area with great transportation options, lots of entertainment options, and lots of new exciting changes happening, this may be the neighborhood for you.

In NoMa you can enjoy lots of entertainment in your free time. Whether it be dining, shopping, checking out art installations at Union Market, or playing a few rounds of bowling at The Eleanor, there is always something fun going on in this ever-growing neighborhood.

NoMa also has several parks in the area, some of which are meant for picnicking and relaxing, and others that are just for dogs! Some of the parks in this area include Pepco Park, O Street Dog Park, Oak Street Park, and so many more that you can explore and discover.
Navy Yard
Located on the Anacostia River, this shoreside neighborhood is beloved by residents and visitors alike. There is so much to do in this area, especially since Nationals Park, where you can go and watch the Washington Nationals play MLB games, is located here. Another thing you'll love about this neighborhood is Yards Park, which is located on the waterfront and has lots of green space as well. You'll find so many opportunities for fun outdoor activities here, whether you want to go on a picnic, take the kids to play by the waterfall, take a walk on the boardwalk or attend one of their many annual free events! Events include live concerts, free yoga classes outside in the summer, and much more.

Another perk of life in Navy Yard is that the whole area is highly walkable, meaning it's a wonderful place if you have a dog and that it's very easy to get from place to place. Getting from shopping destinations to restaurants to grocery stores and more is all convenient and easy to do on foot. If you're looking to live in a lively community with lots to do, Navy Yard might be the perfect DC neighborhood for you and your family.
Capitol Hill

Located in the heart of Washington, DC, is where you will find Capitol Hill. This is the place where you'll see The White House and other historical and political buildings and statues. Living in Capitol Hill means you'll be able to take in the area's rich history every day.

The atmosphere you'll experience living here is very tranquil and laid-back. The streets are tree-lined, and the architecture is known for being charming and beautiful. There are lots of things to do when you live in Capitol Hill — you've got delicious locally run restaurants, great places to shop such as Eastern Market, and everything that comes with living in the heart of America's capital city at your fingertips.

One exciting opportunity of living here is that you can take a tour of the Capitol and see the United States Supreme Court Buildings. There is also plenty of green space for spending time outdoors with your friends and family. Some of the parks in the area include Lincoln Park, Stanton Park, Bartholdi Park, and more.

You can even visit the historic United States Botanical Garden, a place where you can take a relaxing stroll through this horticultural museum. This is the oldest still-open botanical garden in the United States, and you'll find thousands of different species of plants and flowers here.

Capitol Hill may be the right fit for you if you want to live on relaxed streets in a place with a rich history and lots to do in your free time.
Found Your DC Community?
Now that you've explored some of the different neighborhoods in the DC area, you might be ready to take the next step in your home search process. If you're looking for Capitol Hill real estate or homes for sale in other DC neighborhoods, get in touch with Kyra Erika Agarwal. Your dream home in your dream neighborhood can soon be yours.