Dining in D.C. can be a competitive venture — there are so many restaurants to choose from and so many people looking for their next favorite spot. The foodie scene in the District is constantly changing as new restaurants open, and others close each year. To find your next favorite restaurant, you have to be up on what's happening now — and that means having a pulse on which spots are opening soon!


Browse through these eight options, all opening in early 2022.
Bistro Du Jour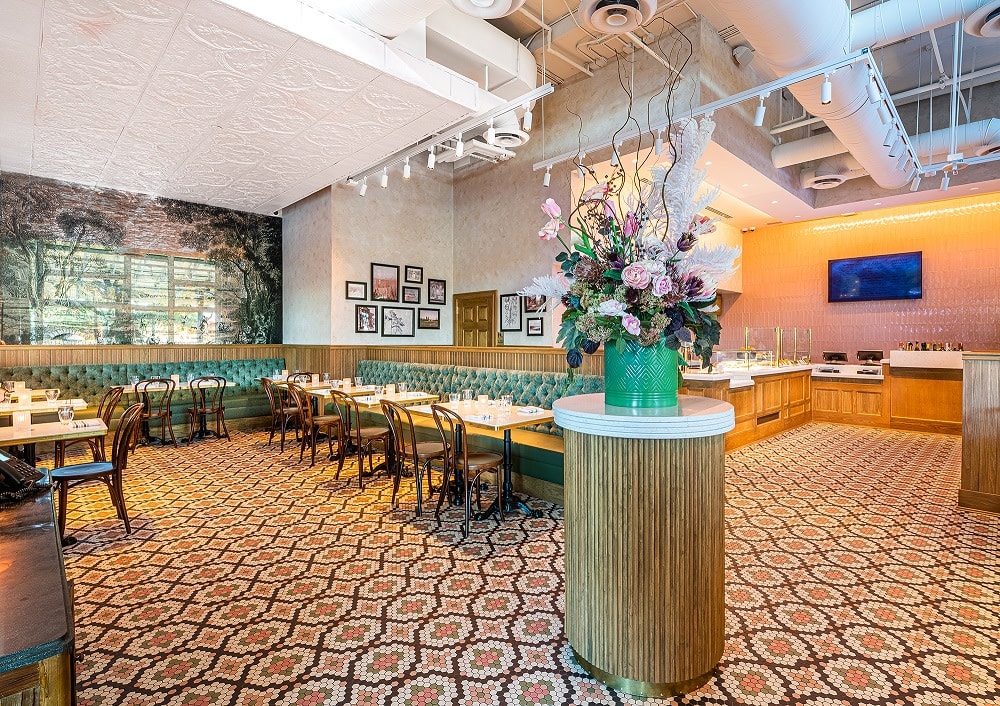 Bistro Du Jour
is a new French restaurant that opened up at 99 District Square. They offer breakfast, brunch on the weekends, lunch, dinner, and a bakery that opens at 8:00 daily. You can make reservations online — expect a diverse menu with something for everyone.
Bistro Du Jour has a wide range of dishes for any palette in the realm of brunch. If you want a more traditional breakfast, their options include brioche French toast with honey-syrup apples and Chantilly cream. It's certainly a twist on the original dish. If you're looking for something healthier, they also serve overnight oats with fruits and almonds.


The lunch menu includes a wide range of options, including the Croque madame, salad Nicoise, Moules Frites, and filet de saumon roti. The Croque madame is made with Black Forest ham on brioche with gruyere and bechamel and topped with a delicious sunny-side-up egg. The salad Nicoise features a tuna and sardine mix atop potatoes, tomatoes, olives, haricots vert, and cornichons paired with a delightful Dijon vinaigrette. The Moules Frites include mussels simmered in white wine and garlic butter with a side of fries. The filet de saumon roti is a pan-roasted salmon topped with remoulade and served alongside a cucumber-sorrel salad and a side of ratatouille.


For dinner, guests can enjoy options from the lunch menu and additional options only served at dinner, like the macaron au foie appetizer, coq au vin, confit de canard, steak du Poivre, and Parmentier d'agneau.


The macaron au foie features raspberry macarons paired with savory chicken liver mousse. The Coq Au Vin — braised chicken with bacon, mushrooms, and pearl onions, with a side of mashed potatoes — and duck confit de canard served with parsley breadcrumbs over green lentils red wine shallots are two excellent options and patron favorites.


The Steak du Poivre is tenderloin with peppercorn sauce, mashed potatoes, and haricots. The Parmentier d'agneau is a lamb shepherd's pie served with mashed potatoes and root vegetables.


The bakery offers pastries and desserts from 8:00 a.m. through closing. Available options include croissants, pain au chocolat, brioche doughnuts, apple turnovers, etc. The restaurant also offers a wide selection of wine, champagne, and cocktails.
Causa
Do you love Peruvian food? Head over to
Causa
at 920 Blagden Alley NW this spring! This new spot will open its doors to the D.C. neighborhood soon — they're scheduled to be open Tuesday through Saturday from 5:00 p.m. to midnight.
The restaurant is located in an alley and can only be accessed by foot, but parking is available on nearby streets (9th NW, 10th NW, M NW, and N NW). The menu is not yet available online, but the website indicates it will have a la carte and tasting options. Most excitingly, Causa will offer classes through its Pisco Club!
The Henri
The Henri
is a new modern European bistro that opened at 1301 Pennsylvania Ave NW in Washington D.C. on February 15th. Before you visit, note that the entrance is on 13th Street. The restaurant will initially serve dinner focusing on modern European cuisine Monday through Sunday from 4:00 p.m. to 11:00 p.m. Lunch service will be added in the spring.
Try the favorite mackerel apple tartar or bonnet suckling pig crepe for a delicious appetizer. Customize a cheese and charcuterie board with one, three, or six selections from the available options, including rabbit rillette, Cacciatori salami, Der Alpen Kase, Mountain Valley sharp cheddar, and more.


Entrees include wild boar lasagna, rotisserie Amish chicken, and a turbot filet. Select from available sides, including potato croquette, celery root lasagna, and more. No dinner menu is complete without dessert, so try the ricotta beignet, bourbon balls, or pistachio-speculoos tart.
L'Ardente
L'Ardente
opened in October 2021 and is well-known for its 40-layer truffle lasagna with short rib sugo, truffle momay, and sottocenere cheese. The restaurant plans to add lunch hours soon but currently welcomes guests from 5:00 to 10:00 p.m. Monday through Sunday.
For dinner, try starting with the arancini or other cicchetti (appetizer) options, followed by your choice of entree, including margherita pizza, bianca pizza, insalata cesare, campanelle fra diavolo, pollo al mattone and more. End your meal with one of the delicious desserts, such as the tiramisu flambé or panna cotta.
Duck Duck Goose
Duck Duck Goose
, a French brasserie, opened in December 2021 at 2100 P St NW near Shaw real estate. At this informal small plate French restaurant, the chefs focus on local and seasonal ingredients to offer a wide range of bold and tasty treats. If you're visiting for brunch, try options like the chocolate chaud or whipped farmer's cheese, the endive salad or steak tartare, and entrees like the quiche Lorraine, stuffed French toast, or the DDG Burger. Try Burgundy Escargot or roasted bone marrow, French onion soup or spice roasted confetti eggplant, and the roasted chicken sunchoke or lamb Wellington for dinner.
Kismet Modern Indian
Kismet Modern Indian
opened in November 2021 at 111 North Pitt Street in Alexandria, VA, less than ten miles from homes for sale in Shaw. The restaurant welcomes guests for lunch from noon to 2:30 p.m. Wednesday through Sunday and dinner from 5:00 to 9:00 p.m. Wednesday through Sunday.
Start your meal with options like tangy sweet potato or lamb seekh kebab, followed by an entree of snapper peri-peri or homestyle chicken curry. Pair your meal with one of four naan flavors or whole wheat roti. End your meal with one of the four desserts, such as rose ice cream or warm carrot halwa.
Destino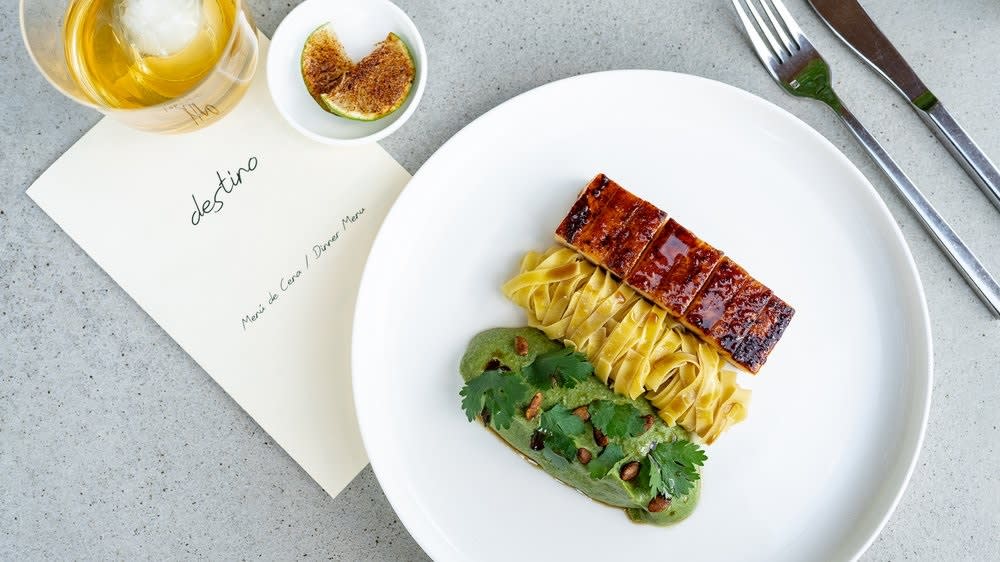 Photo courtesy of Destino
Destino
grew out of Las Gemelas Cocina Mexican, a cafe that opened in spring 2021 in the same spot. The team realized it was time to evolve into a full restaurant, and Destino was born. The restaurant offers Mexican dishes for lunch Monday-Friday from 11:00 a.m. to 4:00 p.m., brunch on Saturday and Sunday until 3:30 p.m., and dinner daily from 4:00 to 10:00 p.m.
The lunch menu includes appetizers like quesadillas and entrees of torta con jamón and chilaquiles. Featured desserts include a sundae with black sesame ice cream, peanut sorbet, and pomegranate ice. Weekend brunch consists of a Precio fijo option for $25, including one appetizer, entree, and dessert. Brunch appetizers include options like mariscos and ensalada, entrees like huevos divorciados and torrejas, and desserts like the mousse de coco.


For dinner, start your meal with an appetizer like tostada de coliflor, followed by an entree like Camarones or mole Verde, and a delicious dessert.
Philotimo
This Grecian restaurant opened in mid-January and will expand to include a cafe and bar in the spring.
Philotimo
is a unique and important concept reflected in the restaurant's name — the word
philotimo
is of Greek origin and means "having a sense of pride in all one does." This is a highly prized value in Greek culture and is evident in the food and drink offered at Philotimo.
The menu at Philotimo reflects the Greecian heritage of Michelin-star chef Nicolas Stefanelli. The restaurant offers a variety of dishes with fresh, seasonal ingredients, including wild rosemary and lavender, small-batch wine, olive oil, and honey.


The restaurant is open Tuesday through Thursday from 6:00 to 10:00 p.m., Friday from 6:00 to 11:00 p.m., and Saturday from 5:00 to 11:00 p.m. The restaurant is closed Sundays and Mondays.


When the cafe and bar open in the spring, the menu will feature breakfast, lunch, and dinner options. Philotimo looks forward to welcoming guests to sit and stay awhile to enjoy the coffee and free Wi-Fi after the cafe is open.
Washington, D.C., is a foodie's paradise, with new restaurants opening all the time to tantalize taste buds. The eight options listed above will provide you with delicious food and pleasant dining experiences for months to come! For additional dining recommendations or help with buying or selling real estate in Washington, D.C., contact expert agent
Kyra Erika Agarwal
for assistance.

*Header photo courtesy of Duck Duck Goose