Washington, DC is widely known as the capital city of the United States, and the political center of the entire nation. With such a historic position, there are many grand buildings scattered around the city's downtown and core neighborhoods. Keep reading for some of the most popular historical architectural styles in DC, both residential and public.
Georgian Style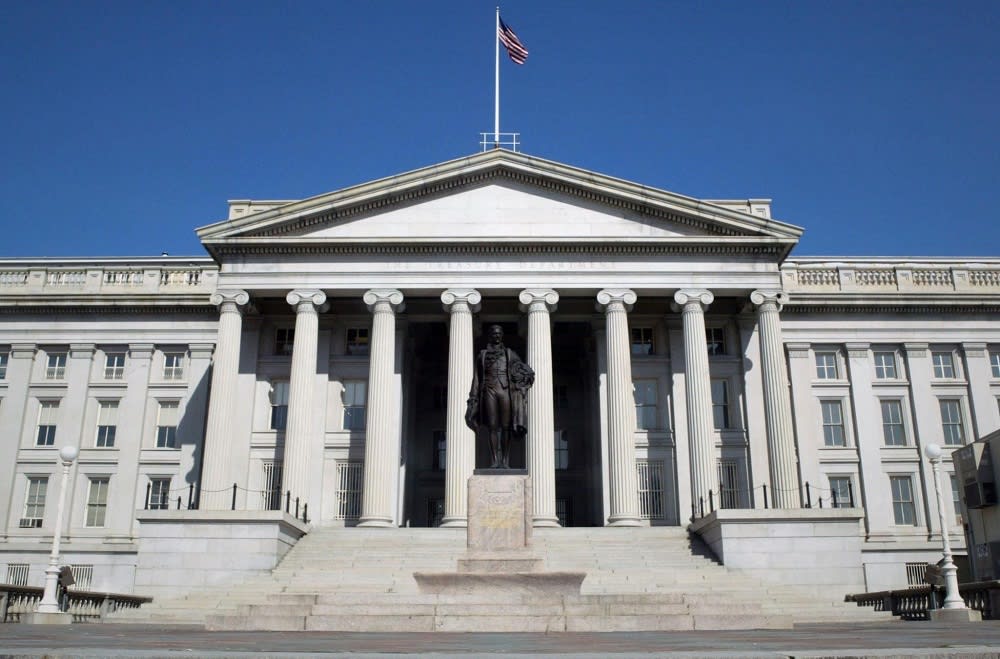 Credit: cnbc
Named after four successive British monarchs, Georgian architecture was popularized between 1714 and 1830. Revived in the late 19th century in the United States, the style became known as Colonial Revival Architecture. In the U.S., the term Georgian is generally used to describe all buildings from that time period, regardless of style.


While the Georgian style has seen revival and change, one consistency is that it is marked by symmetry and proportion based on the classical architecture of Greece and Rome — which, in turn, was revived during the Renaissance era.
The
characteristics
of Georgian-style architecture are rigid building symmetry, as well as in window and door placement, brick, stone, or stucco (brick being predominant), hip roofs and dormers, window decorative headers, and entrance embellishments, such as pediments, arched tops, and ogee caps.
In Washington, D.C., the most popular example of this style of architecture is the U.S. Treasury Building. As the nation's seat of power and money, there are many elegant and beautiful residential homes in the Georgian style. While these luxury homes are on a different scale than the U.S. Treasury Building, they still exude an unmistakable sense of beauty and history.
Federal Style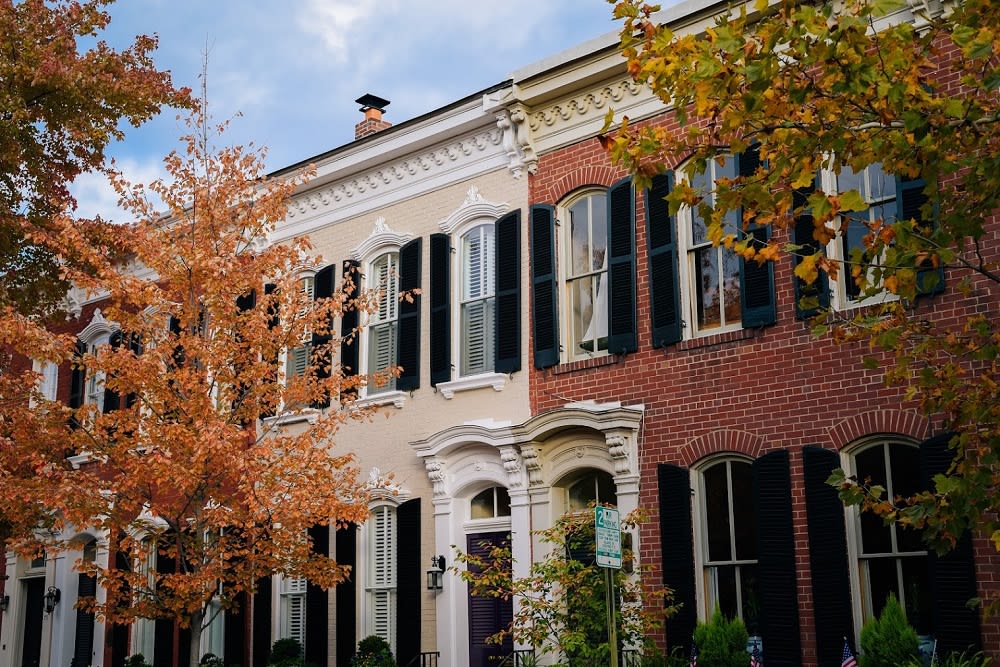 Federal-style architecture was popularized between 1780 and 1830 when the architecture was built across the newly-founded United States. Federal-style is also used in association with the design of furniture in the U.S. during the same time period. While Federal style is generally American, it directly corresponds with the classicism of many then-contemporary styles across Europe.
The major
characteristics
of Federal-style are symmetrical form and fenestration, an elliptical fanlight over the paneled front door, sidelights flanking the front door, classical details similar to the Georgian style, but more delicate in scale, flat lintels over windows, cornices with decorative moldings, often dentils, a low pitched side-gable or hipped roof, decorative front door crown or entry porch, Palladian windows, and polygonal projections.
The White House is the most iconic example of Federal architecture. The Dumbarton House is another major historical example, as well as the historic Tudor Place. The Decatur House is an example of the Federal style as seen in furniture, as while the home's architecture does not entirely adhere to the Federal style, its interiors, decor, and furniture are all model examples.
Neoclassical Style
Neoclassical architecture is a style that was produced by the Neoclassical movement, which began in the mid-18th century in Italy and France. Since then, it's become one of the most prominent and popular architectural styles in the Western world.
The major
characteristics
of Neoclassical style are massive scale, symmetrical floor plans, simplicity of form, built to achieve classical perfection in the Greek and Roman sense, uncluttered appearance, roofs are flat and often domed, supported with tall doric or ionic columns, gardens around buildings that follow its geometric patterns, and, in the U.S., often built in the 1800s. Of course, waves of revivalism mean that Neoclassical buildings are still being built today.
The Neoclassical style started as a reaction to the Rococo and Baroque architectural styles, which focus on elaborate ornaments, detail, and decoration. Neoclassical, on the other hand, remains simple and massive, using the classical forms of Greek and Roman architecture.
A model example of the Neoclassical style is the U.S. Capitol building. Other Washington, DC buildings include the Jefferson Memorial and the United States Supreme Court Building. Residential Neoclassical homes can be found in historic neighborhoods such as Georgetown, where they glow with elegance and simplicity.
Victorian Style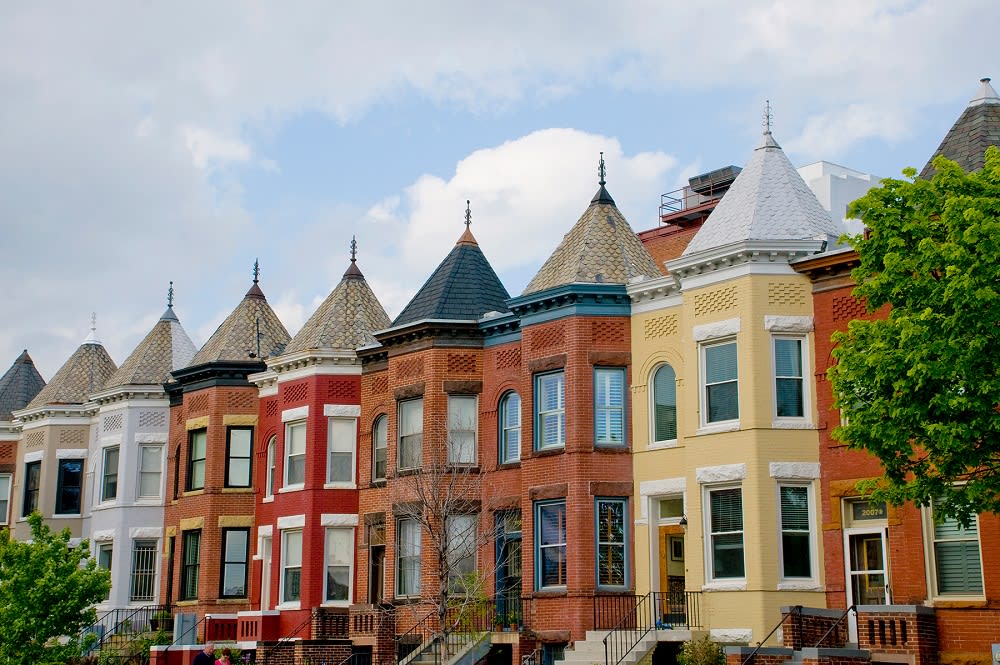 Credit: Inside Hook
Victorian-style architecture is a series of architectural revival styles that became popular in the mid-to-late 19th century. While the Victorian era is defined by the reign of Queen Victoria — from 1837 to 1901 — many elements of 'classical' Victorian-style architecture did not become popular until after the 1850s. The styles included under the Victorian style were often interpretations and revivals of other historic styles. While Queen Victoria was a British monarch, the term Victorian style is most commonly used for American styles and buildings from the same period.
The most common
characteristics
of the Victorian style are steeply pitched roofs, plain or colorfully-painted brick, ornate gables, painted iron railings, churchlike rooftop finials, sliding sash and canted bay windows, octagonal or round towers and turrets to draw the eye upward, two or three story-buildings, generous wrap-around porches, small gardens, and asymmetry.
Victorian style is often unapologetic in its devotion to ornament and flourish, with its ornate and maximalist interior design. While it encompasses these specific characteristics, there are still many different styles that make up many Victorian-era designs. The agreed-upon characteristics of the Victorian style are often the ones that are the most noticeable.
In Washington, DC, there's a variety of Victorian residences. Two neighborhoods where you're likely to spot this architectural style are Capitol Hill and Columbia Heights. There are several Victorian homes and buildings in these neighborhoods, with most as old as the neighborhoods themselves.
Renaissance Revival
Renaissance Revival architecture, also known as Neo-Renaissance, is a combination of 19th-century architectural styles which were neither Greek Revival nor Gothic Revival. Instead, this new style drew inspiration from a broad range of Italian forms and stylistic ideas. The style moved from different parts of Europe and has become a popular historical architectural style.
The most common
characteristics
of the Renaissance Revival style are rectangular floor plans, symmetrical facades with masonry or stone exterior walls highlighted by stone or terracotta detailing, a rusticated ground level and quoining at the corners of the main facade, strong division of floors by elaborate string courses, rows of round-topped windows made up of two separated lights under one arch, and a deep articulated cornice.
Oftentimes, there are windows of different types found on each floor, which are highlighted by pilasters or pediments. Most Renaissance Revival buildings will have a low-pitched or flat roof which is hidden by cornices, short parapet walls, or balustrades.
This style is definitely one of DC's most illustrious. In the capital, the best example of this style is Embassy Building No. 10, the historic headquarters of DC's Parks and Recreation Department. Other examples include the Freer Gallery of Art and the National Building Museum.
Are you interested in more?
If you are interested in surrounding yourself with beautiful and historic architecture — such as the real estate found in Capitol Hill — contact
Kyra Erika Agarwal
for more information on homes for sale in Washington, DC.