Residents Café
One date night destination where you'll be sure to have a fun time with your date is Residents Café. At Residents Café, you can enjoy delicious plates in a beautiful environment, which is an ideal combination for the perfect date. You can enjoy outdoor dining, chatting, and eating on their patio, which has gorgeous flowers and other greenery that surrounds you.
If you're more into indoor dining, you will love the atmosphere and decor that Residents Café provides. Some of the meals you can taste on their dinner menu include carbonara, spring herb risotto, filet mignon, and so much more. You can also get yummy appetizers like avocado cicchetti or spring veg tempura. Residents Café also has lots of cocktails and drinks to choose from if you're looking to enjoy a drink or two during your meal. If you're looking for a spot with an amazing ambiance to match the quality of their food and drinks, this might be the perfect place for you and your date to spend a night out.
Lyle's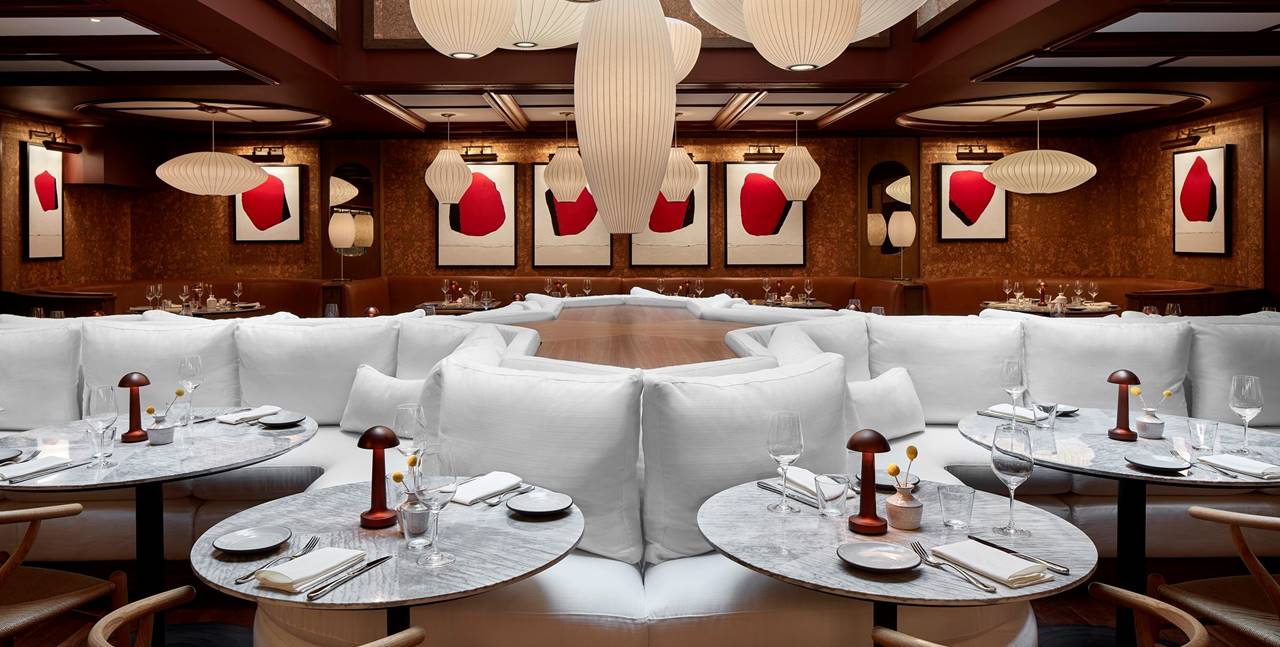 [image credit: Lyle's]

Known for being Dupont Circle's neighborhood restaurant and bar and located in the heart of the city, Lyle's makes for a fantastic date night spot. Whether you're looking for a bar environment or more of a traditional dining experience, you can get both at Lyle's.

At the bar, you can enjoy all of your favorite cocktails or one with a new and unexpected twist if you want to try something different. They have lots of choices when it comes to wines and beers as well. You can expect an expansive bar menu with a good variety of snacks and small plates like cheeseburgers, lamb meatballs, smoked trout toast, and so much more.

If you're looking to book a table for a sit-down dinner date, you can expect to enjoy a tasty meal curated by their top-notch chef, Nicholas Sharpe. Some of the meals you can order from their dinner menu include local striped bass, bavette steak, spaghetti chitarra, and much more. You can also order some appetizers for the table or small plates such as beefsteak tomatoes, broccolini, little gem salad, and corn soup.

Lyle's is the perfect date spot for anything from a more relaxed date at the bar to a classic restaurant dinner dining experience. It's no secret why it's been a Dupont Circle staple for years!
Ala
If you're looking for something specifically gluten-free or vegan-friendly, you will love Ala. Ala is a Mediterranean and Levantine restaurant and bar with so many tasty options for diets of all types. From the many different flavors, you'll taste here to the unique drinks and its visually colorful decor, Ala is full of vibrance and new experiences.

If you plan to stay out late on your date, you can do that at Ala too — their special late-night menu is available Fridays and Saturdays from 9 p.m. to midnight. Some of the meals their menu offers include pancar falafel, sumac crust salmon, and spreads like dried cacik, harissa hummus, Turkish charcuterie boards, and so much more. There are even yummy desserts such as antep pistachio baklava, halva mousse, and caraway ice cream.

Their menu conveniently lays out which dishes are gluten-free, vegan, or both, so no matter what your or your date's diet consists of, you'll be sure to find something tasty that works for everyone. The menu is vast, so be sure to check out their menu on their website to discover all of the options!

If you're looking for a restaurant and bar with a vibrant environment and atmosphere, this may be the perfect place for your date night.
Doyle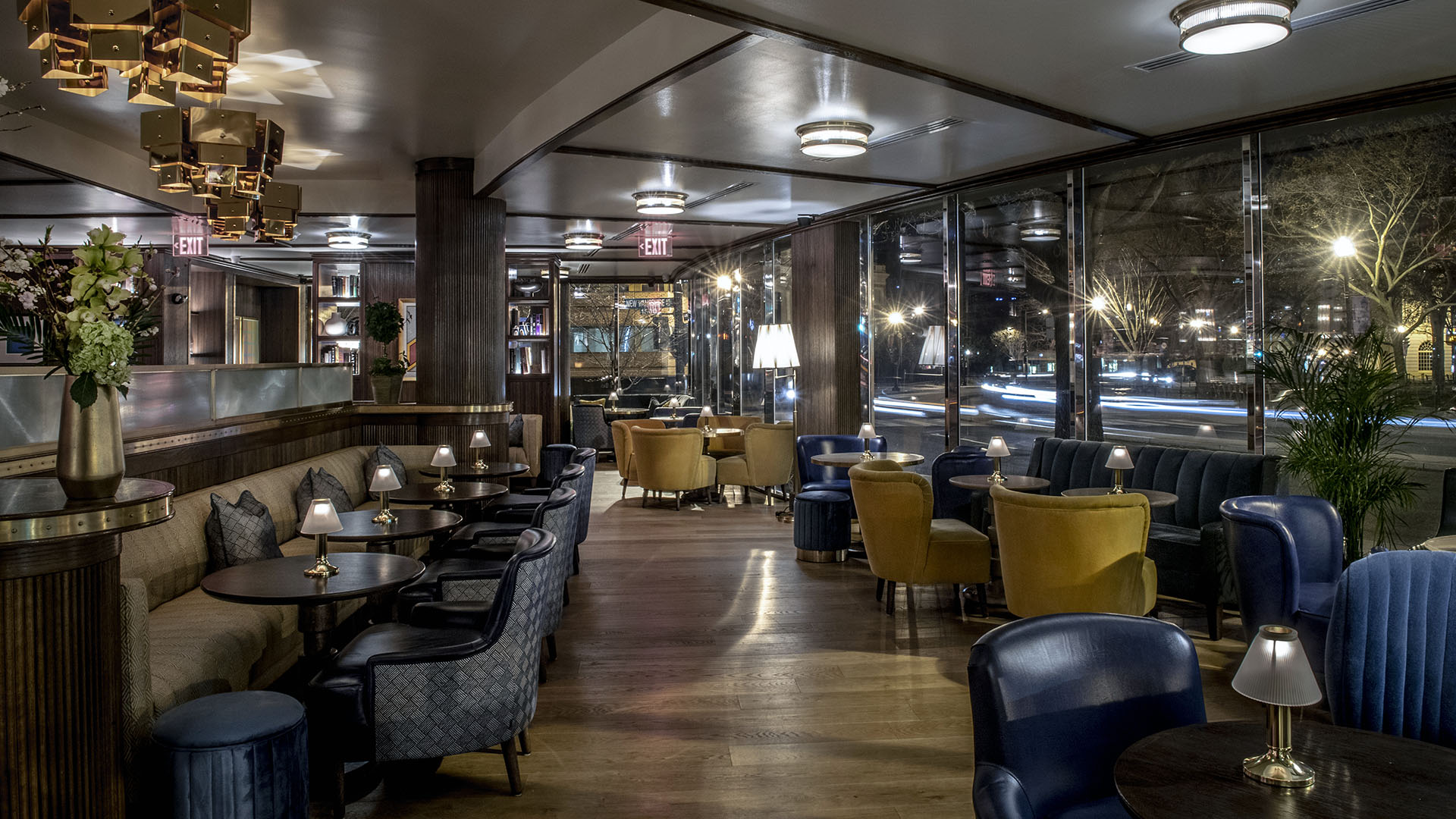 [image credit: Doyle]

Another place to go out on a date night is a chic bar and lounge called Doyle. This is perfect if you're looking for a spot that is unique with lots of charm. This bar was designed and decorated with a lot of thought, attention to detail and stunning decor, which almost gives the space a club feel.

You'll find lots of different seating areas to spend your time at Doyle, from bar stools at the bar area to classic table areas to relaxing couches. From Doyle, you can also enjoy unbeatable panoramic views of the lovely Dupont Circle area. The decoration, environment, and views of the city make for an unforgettable night-out experience that you can't get anywhere else.

On the drink menu, you'll find both old and new wines, as well as cocktails inspired by the 1950s and 60s. You'll also have the opportunity to order some light food fare here, with plates like charcuterie boards, seared Chilean sea bass, burgers, chicken paninis, Caesar salad, and more.

If you're looking for a unique bar or lounge experience with amazing drinks and bar food, Doyle may be the Dupont Circle date spot for you and your date! It definitely elevates the classic dining experience if you are looking for something new and exciting.
Iron Gate
Iron Gate is a stunning restaurant with dishes brought to you by the travels of their chef, Anthony Chittum, across Italy and Greece. Here you can enjoy his authentic and flavorful dishes both outdoors on their wisteria-covered patio or indoors inside of their lovely restaurant. Both have an amazing atmosphere and ambiance.

You'll find plenty of food and drink options, with a wide range of Italian and Greek dishes, over 30 different kinds of wine to choose from, and specially curated craft beers to discover. Some of the different dishes you'll find on Iron Gate's diverse menu include caramelized ricotta gnocchi, oak-grilled octopus, caciocavallo stuffed lamb meatballs, and egg and dill gemelli. They also have desserts like strawberry rhubarb panna cotta, and milk chocolate semifreddo.

This is the place to be if you're looking for some Italian or Greek fine dining with an expansive wine and beer menu. Its lovely atmosphere makes Iron Gate a wonderful place to go as a date night destination in Dupont Circle.
Tabard Inn
[image credit: Tabard Inn]

Another date night spot in Dupont Circle is known as Tabard Inn. This restaurant serves up tasty contemporary American-style meals to those who dine here. It provides a lovely atmosphere whether you're dining indoors or outdoors.

On the inside of the restaurant, you will experience a rustic ambiance with beautifully outfitted wooden walls, amenities, and decor. If you decide to dine outdoors, you can experience their patio, which is beautifully decorated with lots of wooden accessories, greenery, and detailed sculptures.

The decor here matches the excellent taste of the food. Some of the meals you can order from Tabard Inn's menu are roasted chicken, mushroom risotto, pan-seared scallops, Berkshire pork chops, and so much more. Tabard Inn sources many of its ingredients from local farmers around the Dupont Circle area, so the food is always fresh and delicious.

Tabard Inn has been open and running for decades, and it's well-loved by all the people who have dined there. If you're looking for some contemporary American cuisine with lots of interesting decor and ambiance, Tabard Inn is the perfect place for a date night in Dupont Circle.
Want More of Dupont Circle?
If you love these amazing date night destinations, you may be looking to explore more of this desirable area in Washington. If you're looking for Dupont Circle real estate or homes for sale in Capitol Hill, be sure to contact Kyra Erika Agarwal. We can help you find your dream home.