Washington, D.C. has many luxury hotels littered throughout the city.
Alongside Hiltons, Marriotts, and other international chains are designer hotels and boutique residences that are ingrained in the history of Washington, DC. You'll find that many offer a similar opulence and comfort of a Ritz-Carlton or Four Seasons, but with much more character.

Many of these hotels draw their status from neighboring landmarks, and these grand surroundings bring a sense of tranquility, elegance, and relaxation perfect for those searching for a staycation. Keep reading, and maybe you'll find the destination of your next vacation!
Dupont Circle Hotel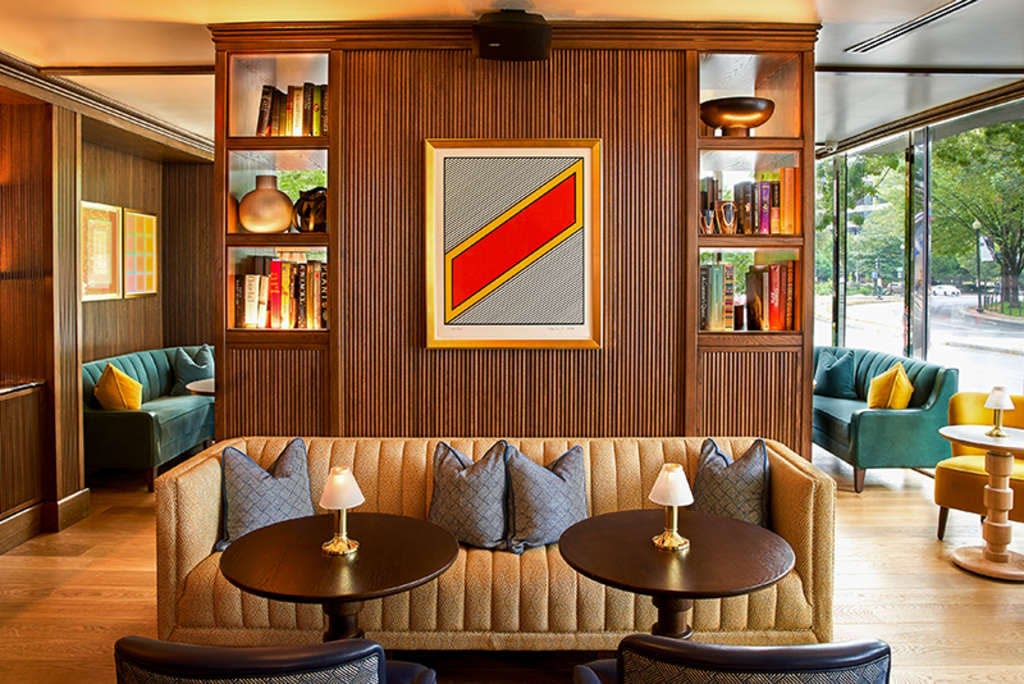 C
redit: hospitalitynet.org
Dupont Circle Hotel is an extravagant, ultra-luxurious hotel located along the eponymous Dupont Circle.
The Dupont Circle Hotel offers several different types of rooms, from a classic king bedroom to a deluxe room with two double beds. But it's the suites that make this hotel what it is — and there's plenty to choose from, all with personalized service and charm. The Junior Suites offer a large floorplan, while the Park View Suites have beautiful views of the green spaces and fountains of Dupont Circle. The ultimate in luxury is the Penthouse Level, which is a newly refurbished, totally exclusive floor with 12 unique suites.
This hotel strives to grant each guest the utmost comfort. Amenities include complimentary WiFi, a dedicated guest relations team, an expert concierge service, a 24-hour fitness center, laundry and dry cleaning, room service, complete disability access, pet-friendly facilities, meeting and event spaces, and a multilingual team.
In-suite amenities include a Nespresso coffee and espresso machine in all rooms, purified water bottles provided daily, marble bathrooms with heated floors, Samsung Smart TVs, Malin + Goetz bath amenities, duck-down duvets, and 300 thread-count imported linens.
Address: 1500 New Hampshire Ave NW, Washington, DC 20036
St. Gregory Hotel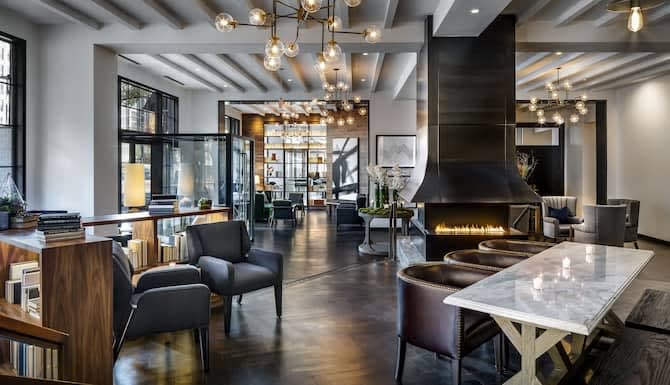 C
redit: Expedia
The St. Gregory Hotel is an immersive boutique hotel in West End. Offering contemporary design and intuitive service, its sophisticated lounge is a perfect site for business meetings and where guests can relax in the evenings.
St. Gregory's rooms and suites promote rest and rejuvenation, with stylish decor and a calm atmosphere that staycations are seeking. There are 156 rooms, studios, and suites available. The staff makes it their goal to find the right balance and diversity so that each room fits a particular guest and comforts them in a way that makes them feel at home.
Hotel amenities include high-speed WiFi, an oversized work desk, a flat-screen LED television, L'Occitane bath products, and plush robes. With its stylish furnishings and calming accommodations, the St. Gregory Hotel ensures a lush, relaxing stay for all guests.
Address: 2033 M St NW, Washington, DC 20036
Sofitel Washington
C
redit: sofitel-washington-D.C..com
Sofitel Washington is an award-winning, elegant hotel inside a 19th-century landmark building. Located in Lafayette Square and within walking distance to monuments such as the White House, the Smithsonian Museums, and more, Sofitel makes a great base if you want to explore the city's history while you're on your staycation.
Sofitel wants their guests to let their worries slip away as soon as they enter their suite. Amenities like plush robes and Lanvin bath products make sure that guests are afforded serenity and comfort. For entertainment, 55-inch HD televisions and Bose sound systems are offered in every room.
Sofitel offers three types of rooms: Superior Room, Luxury Room, and Superior King Bed. Each room has different features, all tailored to what the guest may want or need. There are also three types of suites: Junior Suite Executive, Prestige Suite, and Presidential Suite. Of course, each level has a different price range, but all suite options are extraordinary and exclusive. They'll bring your staycation to a whole new level.
The amenities at Sofitel go above and beyond, including a full selection of in-room spa services to ensure maximum relaxation during your staycation. A cocktail or a delicious meal is just minutes away from your room thanks to Opaline, Sofitel's in-house bar and brasserie.
Sofitel prides itself on celebrating innovation and luxury — this French five-star chain draws inspiration for its decor from Paris, and even displays rotating art exhibits by renowned French artists. Pets are welcome.
Address: 806 15th St NW, Washington, DC 20005
The Darcy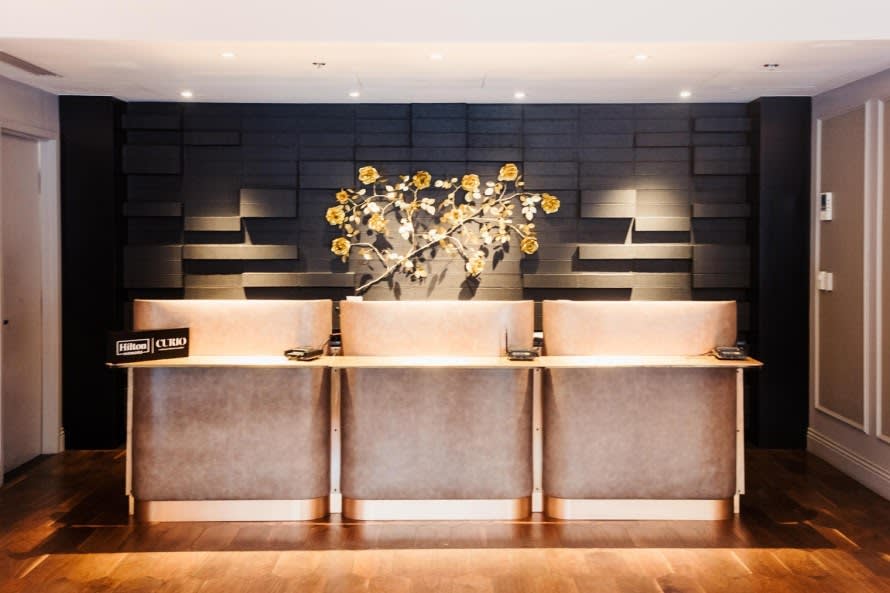 Credit: 52 Cities
The Darcy is a 7,000-square foot hotel located in the heart of the Dupont Circle neighborhood. Promising a one-of-a-kind experience for all guests, this hotel resembles a luxurious boutique and offers a carefully curated local experience.
There are approximately 226 guest rooms and suites, with each showcasing a modern and contemporary design. Each room's homey and sophisticated feel comes from original artwork, extremely comfortable beds, cozy robes, pristine baths with luxury amenities, 50-inch HD televisions, complimentary WiFi, and many other additional comforts tailored to each guest. Many of the rooms also enjoy beautiful city views.
There are many amenities at The Darcy, including a pet-friendly policy — meaning you can bring your beloved pup along for your staycation. The hotel is relatively close to the hustle and bustle of downtown and is steps away from Think Tank Row and Embassy Row. Guests have the option of using The Darcy's courtesy bike and scooter rentals for longer journeys.
A pop-up flower shop is offered semi-monthly, while The Darcy's bar and restaurant, Gerrard Street Kitchen, holds a daily cocktail hour with drinks handcrafted by talented mixologists. If you're feeling decadent, you can order them direct to your room!

Address: 1515 Rhode Island Ave NW, Washington, DC. 20005
Riggs Hotel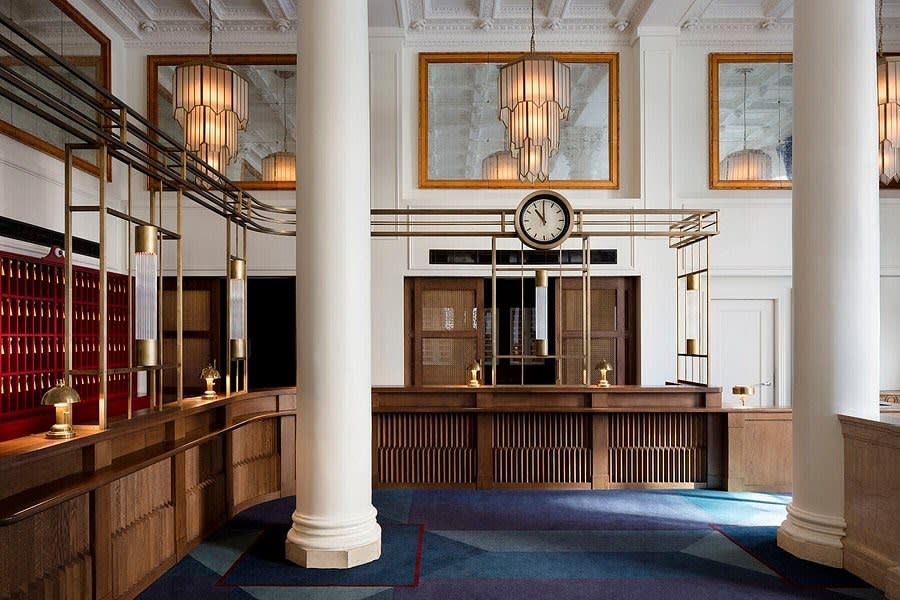 Credit: TripAdvisor
Located inside the former Riggs National Bank Building is the Riggs Hotel. With 181 rooms total, each room and suite is reminiscent of a private safety deposit box — an homage to the legacy of the building and its history. The heart of the hotel is Cafe Riggs, a brasserie-inspired restaurant and event space.
The Riggs has a variety of different rooms and suites to choose from. Rooms include Classic, Superior, Deluxe, and ADA-compliant. If you want something a little more luxurious, opt for one of the First Ladies suites. Inspired by the personalities of four different First Ladies of the United States, each unique, 500-square foot First Lady suite has its own special blend of color and style. If you're looking for something even more elegant and expansive, the Atelier, Gallery, and Riggs suites are available to guests.
The Riggs is perfect for a staycation and even has special offers specifically for those who are seeking a home away from home. You can check out their offers page here.
Address: 900 F St NW, Washington, DC 20004
The LINE
Housed inside a 100-year-old historic church, The LINE DC is located in the hip, young, and diverse neighborhood of Adams Morgan. One thing that makes The LINE D.C. unique is that it's the result of a community effort by local chefs, bartenders, artists, and icons — meaning the best of DC's diverse local culture pervades the hotel's art, decor, and cuisine.
The LINE offers 11 different room types, all with varying amenities. From 340-square foot King Rooms to 1,200-square foot Monument View Suites, there's a room for every price point. If you're staying for a few days, consider the Monument View Suite, which includes a 1,300-square foot terrace that doubles the amount of liveable area. You and your pets — who can stay for free — will love it.
LINE DC is proud to showcase 3,000 pieces of original art and photography from local, female artists. Each room is unique and has a unique set of artwork for guest enjoyment.
Address: 2468 Champlain St NW, Washington, DC 20009
Graham Georgetown Hotel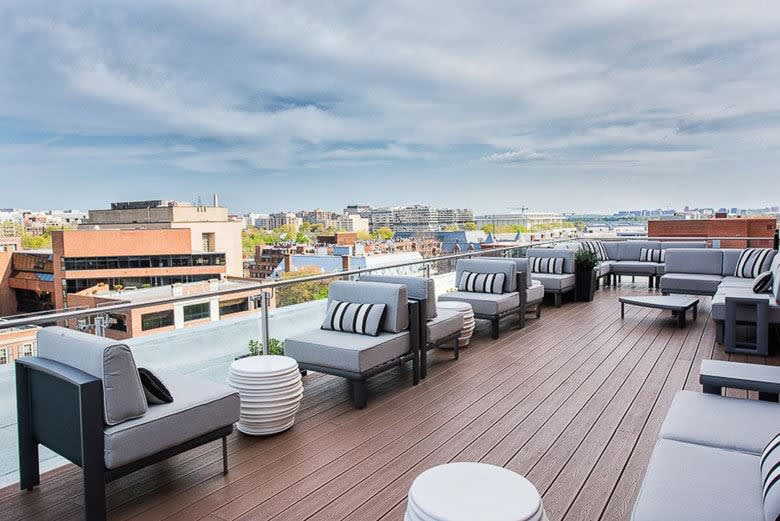 Credit: WTOP
The Graham Georgetown is a luxury boutique hotel located in Georgetown, one of the most historic parts of DC. Providing sophistication and modern indulgence to all its guests, The Graham considers itself as one of the most refined hotels in Washington.
With a historic Federalist facade, even the exterior of this residence exudes a sense of history and tradition. Each guest room and suite is spacious, with chromatic accents and comfortable modern furnishings. From oversized bathrooms with marble accents to Irish bed linens, each guest is provided with overindulgent comforts that can only be found at the Graham Georgetown. There are 57 rooms and suites total, with eleven types ranging in size and opulence.
Each room and suite has amenities such as pillowtop mattresses, Bluetooth alarm clocks, hairdryers, complimentary WiFi, 42-inch HD SMART televisions, large working desks, pay-per-view movies, in-room laptop safes, mini-fridges, in-room coffee, and an iron and ironing board. Luxury amenities such as Molton Brown bath products and plush bathrobes are also offered.
Address: 1075 Thomas Jefferson St NW, Washington, DC. 20007
Interested in moving to Washington, DC?
If you are interested in homes for sale in Capitol Hill, Navy Yard, or Downtown D.C., contact Kyra Erika Agarwal to get started on your home search!