Buying and selling a home is a taxing process. Oftentimes, homeowners looking to sell their old Capitol Hill homes are searching for a new one to move into. Upgrading one's home while trying to sell a pre-existing one is a demanding task, and it's a life event that demands much planning.
Keep reading for our tips on how to buy and sell your Washington, D.C. home simultaneously.
First steps
There are quite a few things that need to be done before you can sell your current home and upgrade to a new one.
Obtain the aid of a reputable real estate agent or real estate professional. Of course, an agent isn't a prerequisite to a successful simultaneous sale and purchase, but having an ally will definitely ease the extra stress that comes from doing both transactions at once.





Research current real estate trends in your city and area. Assess your Capitol Hill home against ones that have recently sold and try to determine a fair list price for your D.C. property.



Having a real estate agent will help greatly with this, as their years of local expertise and emotional distance from your home will result in a more competitive price calculation. Your agent can also perform a comparative market analysis and advise you on any improvements you can make to increase the value of your home.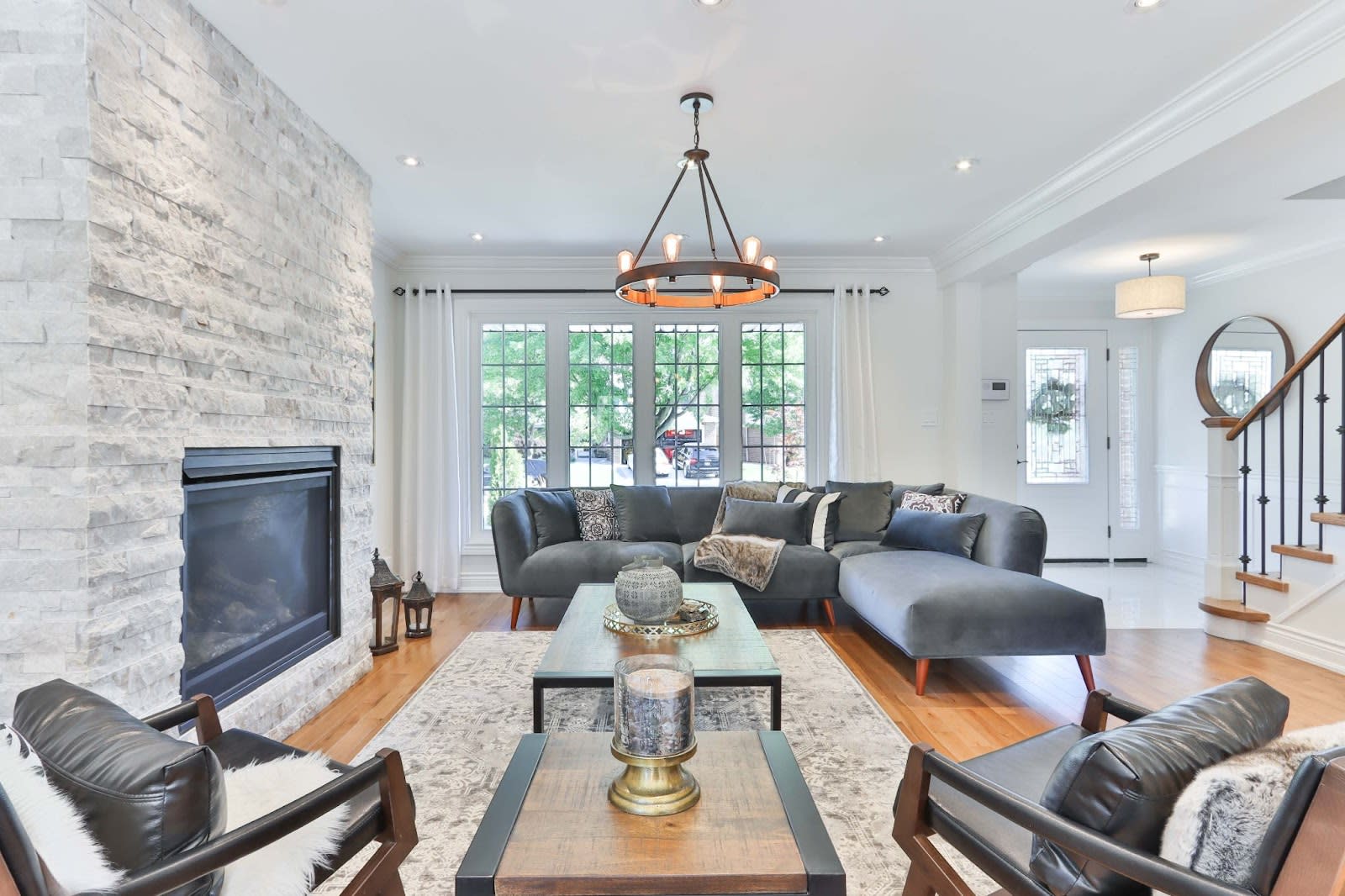 Make sure you research what time of year is favorable for your home to be put on the market. For example, wintertime — especially during the holidays — is one of the

worst times of the year

to list your home. Most buyers aren't looking to buy a home near Christmas.





Evaluate your current and near-future financial situation. Budgeting will help you know your future price range when it's time to start looking for a new Washington, D.C. house to buy.

Knowing the expected sale price of your home will be an asset when trying to calculate your near-future finances. The more certainty you have, the better you'll be able to estimate how much you can budget for your new home.





Don't buy too big — between down payments, closing costs, and unexpected repairs, fees can rack up quickly and challenge your cash flow. An ambitious purchase is even more difficult if you have yet to sell your current home and don't have access to its equity. An agent can help steer your expectations.





Figure out which path you would prefer to go on: buying before selling, or selling before buying.





Buying before selling is considered the easier path. It will disrupt your family's lifestyle less, as you'll have the luxury of time and can move between the two homes that you own. The only downside is funding — you won't be able to access the equity in your old home to purchase the new, and you may be stuck with a double mortgage. If you have cash flow issues, buying before selling can be very difficult.





Tip: If you don't have enough funding, consider obtaining a mortgage or getting

pre-approved for a loan

. It will be much easier to buy your next property if you have a pre-approval and the proper documents for it in-hand. You'll close on your new home more quickly, and can list your old property sooner.





If your old home doesn't sell in a timely manner, you may have to consider renting it as you wait for a sale.
When selling before buying, you're taking on less risk but more inconvenience. You'll need to arrange a temporary place to stay after your old home sells, as you might not have a new home to move into. While this may protect you from the cost of owning two homes in expensive Washington, D.C., keep in mind that even temporary housing can become exorbitant, especially if your search drags on. Consider a storage container for most of your belongings and renting a smaller space.
What to do next
Once you've begun your process, there are a few things that you must do before closing the sale of your old home.
First, have a backup plan. Things can fall through at any time, and while your agent can help you against unforeseen events, it's up to you to plan for negative scenarios. Consider lining up short-term financing options like a bridge loan, or notifying your family and friends preemptively so you have help on-call if things go south.


Buying and selling simultaneously doubles the tasks on your list, and even one thing going wrong in either your home sale or home purchase can cause a setback. Make sure you've got multiple sources of liquidity that you can access.
Negotiations — and the order in which they occur — are critical when it comes to simultaneously buying and selling your home.





Make sure you have room in your budget to negotiate. The market for Washington, D.C. real estate is

currently a seller's market

, which means that there are more buyers than there are available homes. Buyers will face a more competitive market than sellers, so as someone who needs to do both, securing additional funding for negotiations will help you succeed in your simultaneous buying-selling goals.





When selling, don't always expect to get the list price. Even in today's market where Capitol Hill homes get multiple offers, the real estate market can be fickle. Similarly, don't become overconfident due to a seller's market and try to price your home too high. Buyer's agents will know it's not a competitive rate and your home may stay on the market longer than if you had priced it fairly.
Additional steps to take
These smaller steps may seem simple, but will grant big returns on your time and peace of mind.
Have your home show-ready as soon as possible. Make sure your home is easily accessible for viewings and home tours by potential buyers. Pack away your personal belongings and, if you can, arrange to live in a temporary space during your viewings.





Even the smallest detail can be the trigger between turning a buyer off and making your home memorable. To appeal to the broadest audience, depersonalize your home as much as possible by taking down photos and personal memorabilia. You want to invite potential buyers to imagine themselves living in their house, not your home.





While doing large renovations isn't advisable, go through your house with an appraiser's eye and arrange to fix any issues or

severely outdated

features. What you might consider historic and charming may read as old and run-down to buyers. Your agent can serve as a pair of fresh eyes when it's difficult to honestly appraise things yourself.





Have all of your documents in place, make copies, and don't be afraid to delegate.





When you're buying and selling simultaneously, sometimes even the smallest of tasks can be hard to keep up with. Not being organized will push your closing time frame back — and in the D.C. real estate market, time is money. If you truly cannot manage, consider delegating some paperwork to other stakeholders like your partner or agent.
Are you looking to buy and sell in Capitol Hill?
If you are interested in selling your current home or buying a new one in Capitol Hill, contact Kyra Erika Agarwal for more information. Kyra specializes in Washington, D.C. real estate and can help you navigate both transactions smoothly and efficiently.